Published Adult Plays
Two lonely people's lives are pushed suddenly into the unforeseen when a starving coyote shows up at their apartment building. MY BARKING DOG is a truly unpredictable, gripping exploration of isolated urban lifestyles and a daring lament for the destruction of nature by man-made boundaries.
"MY BARKING DOG…shocks and surprises, and in a most brilliant and entertaining way… poetic, funny, gripping and stomach-churning, and sometimes all these things together." —LA Weekly
"…smart, witty, theatre of absurd-esque…a streamlined, no-fat depiction of two lonely souls possibly finding their ultimate purpose in life." —BroadwayWorld.com
"I only wish more American plays were this daring… by the last moments of the play, we're in a fever dream of a world, a demented fantasy in which Nature finally has its revenge on Culture. If you think you've guessed what I mean, I guarantee you're mistaken." —CLTampa.com
"…MY BARKING DOG has plenty of bite… smart, edgy, visceral and socially relevant… funny as hell, something that few plays with a social message manage to be." —TheBradentonTimes.com
****************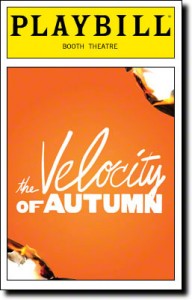 Alexandra, an 80-year-old artist is in a showdown with her family over where she'll spend her remaining years. In Alexandra's corner are her wit, her volcanic passion, and the fact that she's barricaded herself in her Brooklyn brownstone with enough Molotov cocktails to take out the block. But her children have their own secret weapon: estranged son Chris, who returns after 20 years, crawls through Alexandra's second-floor window and becomes the family's unlikely mediator. No sooner are the words "Hi, Mom" uttered than the emotional bombs start detonating.
"Bracing, honest, and often deliciously funny…Anyone who's even reached the crest of middle age will have an innate feeling for this admirably drawn woman." —The New York Times
"A vivid poetic expression for all the frustrations of old age…the clash Coble illuminates manages to touch nerves exposed in the many seemingly no-win debates across America over what's best for a relative no longer at her sharpest." —The Washington Post
"Sublime and penetrating…a tale that resonates with a broad range of audiences as it touches on a sobering dilemma faced by families every day." —Variety
*********************

How far would you go for your child? For Genevra and Joshua Bradley, the question is no longer hypothetical. Their three-year-old son, Mac, is next on the waiting list to get into the Bright Ideas Early Childhood Development Academy—and everyone knows once you're in there, your life will unfold with glorious ease. Josh and Gen have had to scramble all their lives to get this far…and now they are one fatal dinner party away from the ultimate success as parents: The Right Pre-School. You may never look at pre-school—or pesto—the same way again…
"Coble's deliciously black comedy benefits from hilariously funny, psychologically astute portraits…the near surreal spoof hits home with ribtickling acuity…" —NY Times
"Funnier than anything on Broadway!" —NY Post
"A tidy little gem of comic insanity." —Variety
"A tour de force with physical and verbal comedy to spare." —The New Yorker
"A comedy that is, of all things, genuinely funny." —NY Newsday
"Wickedly funny." —Broadway.com
Full Length, 2 men, 3 women (doubling): 5 total, Minimal Flexible Set
*********************************

The Pitch: You get one million dollars to spend over the next seven days. A camera crew follows your every move and broadcasts your adventures on national television. The Hook: At the end of the week…you die. The Best Part: The viewing audience gets to vote on the method of your death! For hard-luck Eldon Phelps, the deal is irresistible. But does America have the stomach for this much reality? What would you do if you had one week until you became…"The Dead Guy"? Stay tuned…
"Inspired and ruthless, Eric Coble has preempted the network vultures with THE DEAD GUY." — Variety
"Daringly staged and thrilling to watch." —Denver Post
"Whether you are entertained or disgusted, Coble's skillfully woven comedy is a humorous and thoughtful critique on society's obsession with other people's realities." —L.A. Splash
"Playwright Eric Coble has built THE DEAD GUY around one of the brightest notions of recent seasons." —Houston Chronicle
"Amoral, mercenary and totally devoid of good taste, it's not such a far-fetched idea. A must-see." —Houston Press
Full Length, 3 men, 3 women (doubling): 6 total; Flexible Set
*********************************************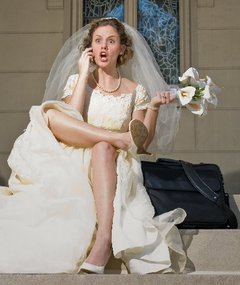 A romantic comedy for the digital age that asks the eternal question: Do the bride and groom really need to be in the same country to go on a honeymoon? Karen and Max are getting married… if their jobs will ever let them be in the same city at the same time. But between them and wedded bliss are a blizzard of intercepted emails, erotic text messages, online bridal gown shopping, and lost cell signals. Can love conquer all? Can you hear me now?
"Clever and sharp, with witty lines that give pause over the role electronic communications play in our lives. Cross-hatching with six characters never sounded so good and made so much sense." –Variety
"Judging by the knowing and frequent laughter from the audience, Coble and 'For Better' are on to something." —Miami Herald
"A sweet look at how text messaging and cell-phones have only made the search for true love that much harder. You'll laugh. You'll relate to it." –Denver Post
"Incredibly entertaining… One of Coble's most incisive social satires" –– Cleveland Plain Dealer
"'For Better' is what would result if Neil Simon wrote 'Barefoot in the Park' or 'Plaza Suite' in the new millennium." —South Florida Sun Sentinel
"Full of jokes, jabs, and insightful commentary about today's wireless world… Coble has a knack for capturing the our cultural zeitgeist… It's all ridiculously fun" — Akron Beacon Journal
"The entire audience was laughing hysterically… don't miss this play." –Miami Life
Full Length, 3 men, 3 women, Flexible Set
***************************************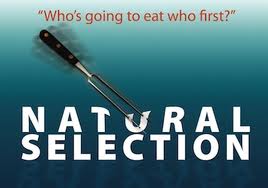 The very near future. Technology rules supreme. And the Culture Fiesta Theme Park in Florida needs to restock the natives of the Native American Pavilion. Now curator Henry Carson must venture into the wastes of North America to find a genuine Indian. Between his wife's blogging, his son's packed schedule at virtual school, the unearthly rain, and his "Indian" turning out to be very different than he expected, will Henry have time to notice the world's sliding towards apocalypse?
"A sharply funny satire… terrific." –San Diego Union-Tribune
"A topical, funny satire that handily takes the Humana Festival's prize for sheer ambition." –The New York Times
"Abounds with energy, humor, and provocative ideas." –Louisville Courier Journal
"Sly and topical with a visceral edge that cuts close to the bone." –Rocky Mountain News
"Provocative ideas abound in this comically fired end-of-the-world satire." –American Theatre
"An engaging theme, hilarious lines and provocative ideas." –Newsweek
Full Length, 4 men, 2 women (6-9 actors possible: 1-6 women, 2-7 men),Flexible Set
****************************************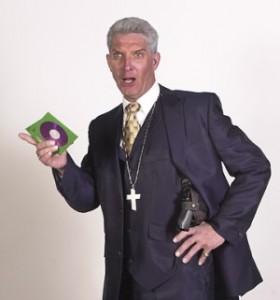 Armageddon will be brought to you by the Home Shopping Network! Virtual Devotion is a day in the life of Pete, a televangelist for "The Mature Warriors for Christ"; Anne, a sweet young telemarketer for the Happy Halo Ministry for Children is desperately trying to raise funds to send CD-ROMs on the book of Job to children in Sudan; and Ruth, a sardonic woman who views the world from her armchair until she sees the face of Ezekial the prophet in her tapioca pudding. And Jesus, only Son of the Living God, has come back, working one temp agency job after another. All four become deeply entwined in one another's lives, eventually colliding on the Home Shopping Network selling religious artifacts moments before what may just be the end of the world.
"Deliciously funny, poignant, beautiful. The play's wit spins fireworks in all directions." —Cleveland Plain Dealer
"Funny and thought provoking." —The Dallas Morning News
"A black humor winner" — Sun Press
"An apocalyptic barrage of ideas with enough riches and even poetry to sustain the whole" — Cleveland Jewish News
"A must-see" — Dallas Metro
"An evangelical slamdance" — Scene Magazine
Full Length, 3 men, 3 women (may be expanded to 6 men, 6 women), Flexible Set
*************************************
truth: The Testimonial of Sojourner Truth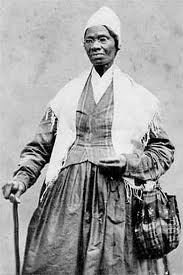 A powerful drama exploring the life of Sojourner Truth, a woman searching for her identity in a country ripped apart by Civil War. As she walks thousands of miles, physically and emotionally, her evolving faith and progressive ideas send shock waves through the nation that continue to reverberate. Through music, movement, and drumming, her story comes to life — from her birth as a slave, watching her brothers, sisters, and even her own children sold away; to her meetings with Lincoln and her explosive speeches across the Union; to her final crisis of faith … her own mortality.
"Rich in detail, the lyrical biographical sketch fully captures the mind and heart of this ennobled woman of history with all the passion and truthfulness of good narrative." — Cleveland Jewish News
"As in any great story, the play transcends its subject matter — in this case history and politics — and takes us on a quest. It's emblematic of the spiritual journey we all go on." — Northern Ohio Live
"Blending the real Sojourner's memoirs with his own forged-in-fire dialogue, Coble has built his performer a towering platform to show off her gentleness and sweetness of spirit… Right up to its last we-shall-overcome seconds, the audience feels the satisfaction of a church service that actually works." — Scene Magazine
"The play has beautiful intensity and eloquence. We need to learn the story it tells." — The Cleveland Plain Dealer
Full Length, 1 woman (1-10 actors possible, 1-10 women, 0-9 men), Minimal Flexible Set