Published Family Plays (middle school and up)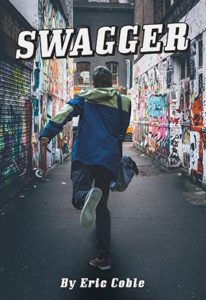 A momentary act of violence caught on camera destroys the lives of three people. Now they need to tell us their version of how it really went down. Jordan is a quiet, nerdy, almost eighth-grade graduate. Leela, bubbling and following her passion, has just opened her own clothing boutique near Jordan's school. And Daniel is an awkwardly sweet police officer on foot patrol in the neighborhood. The three of them lead us through their lives, dreams and the snap decisions that led them to those fateful 8 seconds that will ravage an entire community.
3 actors, any ethnicity and gender; 30 minutes; unit set.

"The [audience] held their breath as the backstory of the incident recorded on video unfolded before their eyes." —Broadway World
"A powerful play." —Palm Beach Dramaworks
"[Swagger] presents topics that either challenge or affirm young people's beliefs, and engages them to think critically about making informed decisions." —Palm Beach Dramaworks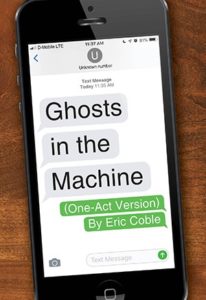 It begins after lunch on Melissa's phone. Someone she doesn't know is texting her looking for a drug hook-up. Soon, eight very different high-school kids are getting bizarre texts from numbers they don't recognize—budding romances, bitter rivalries, even violent threats. What's going on? And what if it's not people connecting with other people via their phones … but phones trying to connect with other phones via their people? A digital mystery for the mind and heart of the savvy texter.
8 actors, any ethnicity or gender;
70 minute OR 40 minute version available.
"Funny and mysterious." —OnMilwaukee
"Incredibly funny [and] thought provoking." —OnMilwaukee
"A multi-tiered look that manages to walk right down the middle of the gulf between texters and texting-haters." —OnMilwaukee
"Clue meets The Breakfast Club, with a little bit of Horton Hears a Who, for good measure." —Ozaukee Living Local
"Fast-paced, funny, mystery." —Ozaukee Living Local
SHERLOCK HOLMES: THE BAKER STREET IRREGULARS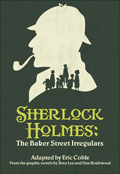 Sherlock Holmes is missing, and the streets of London are awash with crime. Who will save the day? The Baker Street Irregulars—a gang of street kids hired by Sherlock himself to help solve cases. Now they must band together to prove not only that Sherlock is not dead but also to find the mayor's missing daughter, untangle a murder mystery from their own past, and face the masked criminal mastermind behind it all—a bandit who just may be the brilliant evil Moriarty, the man who killed Sherlock himself! Can a group of orphans, pickpockets, inventors and artists rescue the people of London? The game is afoot! 80 minutes (one or two acts); 10-20 actors. Unit set.
"A reminder anyone can rise above their backgrounds and past, especially when someone respectable respects and trusts them" — BroadwayWorld.com
"No matter how dire events become, the Irregulars brought light to the proceedings, crafting funny and individualized personalities."  –– Milwaukee Journal Sentinel
"Fabulous… The Irregulars shine in this production"  — Ozaukee Magazine
"A bold, fast paced adventure with plenty of action including a battle under the streets of London, and a chase on top of a moving train" — Milwaukee 365
"A classic detective story with villains, cops, mistaken identities, subterfuge, heroic acts, dangerous situations, budding love stories and twists and turns galore.  The children in the audience were rapt on the edge of their seats" —OnMilwaukee.com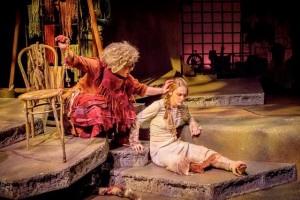 Adapted from Lois Lowry's companion book to "The Giver".
In an apocalyptic future where children are kept like animals and human life is cheap, young Kira learns the ugly truth about the powers controlling her world. A gifted weaver, her talent catches the attention of the Council of Guardians. Under their custody, Kira is made to mend and embellish the ceremonial Singer's Robe—a garment that tells the history of the world. But the more she works, the more she learns the horrifying secrets that keep her community hostage. Can she use her knowledge and art to reshape the future?
"Vivid, earnest and engrossing." —The Oregonian

"A sophisticated approach to the material that draws out the everyday heroism of the characters who find themselves in a sinister world" —Express Milwaukee

"It's prickly, picking at the edges of ideas, peeking under the blanket of comfortability to stare at the fears and dangers underneath." —Oregon Arts Watch

"Five out of five stars … An enchanting and empowering story that shows the power of art and the importance of thinking for yourself." —PDX Kids Calendar

"Deep and complex … The world of the future is pictured as desolate and despairing, but in the children we see the light of brighter possibilities." —Dennis Sparks Reviews
65 Minutes;  4 men, 4 women, extras as desired; Unit set.
**************************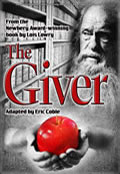 Adapted from the Newbery Award-winning book by Lois Lowry.
Jonas' world is perfect. Everything is under control and safe. There is no war or fear or pain. There are also no choices. Every person is assigned a role in the community. But when Jonas turns 12, he is chosen for special training from The Giver—to receive and keep the memories of the community. The Giver is the only person who holds the memories of real pain and real joy. Now Jonas will learn the truth about life—and the hypocrisy of his utopian world. Through this astonishing and moving adaptation, discover what it means to grow up, to grow wise, and to take control of your own destiny.
"An absorbing production that asks both children and adults compelling questions about how we want our world to be." —The Oregonian
"There are lessons for those of every age in this compelling adaptation." — Sarasota Magazine
"Questions are imaginatively, sensitively, and deftly explored in a gorgeous tale." — Lexington Herald Leader
"A grand morality tale with a magical quality." — Pegasus News, Dallas
1 and 2 act versions (60 or 90 minutes); 4 men, 4 women, extras as desired (or 4 men, 2 women with doubling); Unit set.
****************************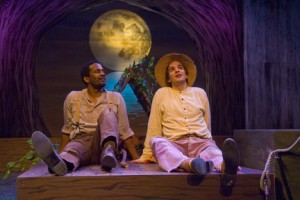 A vivid new adaptation of Mark Twain's classic, telling its epic tale with only 8 actors in 60 minutes. Huckleberry Finn escapes from the "sivilized" world into a life of freedom and adventure on the mighty Mississippi River with his only friend, the escaped slave Jim. Through death-defying escapes, mysteries and hilarious confusion, the pair discover the real meaning of friendship and
ultimately their own morality.
"Coble's challenges were considerable in wrangling this expansive story onto the small stage in a way that would engage rather than enrage his audience. He succeeds admirably – and does so in a compact hour. …His Huck has a playful impishness and an inner wisdom. …The kids at Friday's school performance loved it. So will your kids. So will you" — The Cleveland Plain Dealer
"A highly theatrical cohesive whole… Coble's layered adaptation embraces Twain's exploration of race in 19th-century America, and asks: 'What is the world telling you, and does that line up with what your heart is telling you — and how do you create a life between those two poles?" –– The News Herald
60 minutes; 5 men, 3 women, extras as desired; Unit set.
***************
NIGHTFALL  WITH  EDGAR  ALLAN  POE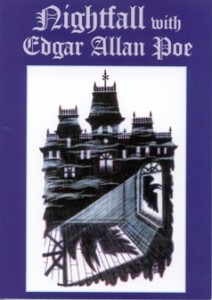 Edgar Allan Poe stands alone in the flickering darkness of his mind, trying desperately to convince himself — and us — that he's not mad. The spell he weaves brings us a highly theatrical adaptation of four tales Poe himself considered his best: "The Raven," "The Fall of the House of Usher," "The Pit and the Pendulum," and "The Tell-Tale Heart." Enter the world of Poe and check your heartbeat at the door.
"Gripping and ghoulish… The atmospheric production seamlessly blends a quartet of Poe's immortal tales and poems into a chilling excursion into all-consuming fear." –– Montgomery Times Daily
"Dream-like, absorbing and brilliant." — The Montgomery Independent
80-90 minutes; 2 women, 3 men (5- actors possible: 0-9 women, 0-9 men); Unit set.
**************
IN  A  GROVE:  FOUR  JAPANESE  GHOST  STORIES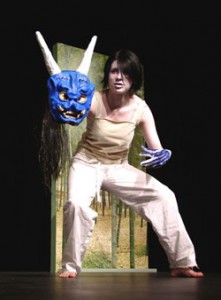 Obosan, a traditional Japanese priest, steps forward from the darkness. He explains that where we now see a grove of trees, bushes, and grassy hills, was once the village of Kogisu — and Obosan was once the village priest. Where did all the people go? What happened to the homes and shops and pathways? Obosan promises to answer all of these questions in four tales as he takes us back in time hundreds of years to watch the supernatural history — and ultimate destruction — of an entire village.
"These four tales are more than just the thrill of the unexpected, they're also very funny." — The Bar Harbor Times
"Extraordinary characters… A fantastic way for parents to open the cultural door and show how different — and how very much alike — people are." –The Ellsworth Weekly (Maine)

80-100 minutes; 8 actors of either sex (5-25 actors possible); Unit set.
*****************************
GOLD  IN  THE  BONES: THREE  PIRATE  TALES  BY  WASHINGTON  IRVING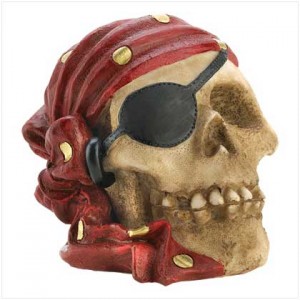 Peter De Groodt, the only surviving member of Captain Kidd's terrifying crew, invites us to follow him and discover where all his pirates' ill-gotten gold is buried… while telling us of the cruel fates that met the men and women who sought it out before us. Guests From Gibbet Island, Wolfert Webber, and The Devil and Tom Walker present three thrilling forgotten tales of dreams, madness, greed, and redemption in the distinctive Washington Irving style.
80-90 minutes; 3 women, 3 men (6-32 actors possible); Unit set.
**********************************
MYTH – ADVENTURES:  FIVE  GREEK  CLASSICS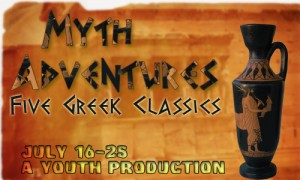 In a whirlwind of thrills and comedy, journey into the ancient world of Greek mythology with some of the greatest characters ever to grace a stage. Do you dare to shake hands with King Midas? Or find yourself, like poor Echo, in the middle of the ultimate marriage battle between the king and queen of the gods? And why can't Narcissus pull himself away from that pool of water? Follow the world's greatest musician, Orpheus, on his quest for the one thing his music can't do-bring back his dead love Euridice. And when you're the son of the most famous inventor in history, how do you make a name for yourself? Daedulus only has minutes to figure it out, once he's locked in a tower with his absent-minded father Icarus. Then it's time to follow Theseus as he tracks down the horrifying minotaur in the labyrinth. Taken as separate one acts, or as a full-length play, Myth Adventures is a fresh look at classic legends which sold out 50 performances in its premiere at the Cleveland Play House.
90 minutes (15 minutes per one act); 5-25 actors; Unit set.
***************************************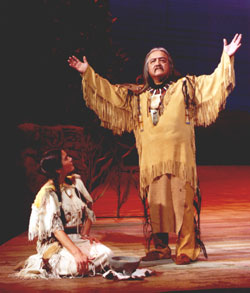 Twelve-year-old Raymond George is trying to find his way between his Native American background and the U.S. culture engulfing him. His grandmother tells him that another child once faced this divide, and rather than choosing a side, was able to find a circle. So begins this dramatically epic re-telling of young Sacagawea's life as she's kidnapped from her Shoshoni home and ultimately becomes part of the most daring American journey of the century, joining Lewis and Clark on their 1,500 mile trek to the Pacific.
"The groundbreaking Sacagawea distills history from legend… The music has an emotional quality and strikes a chord that goes right up the spine." — The Oregonian
"An incredible journey in which a fifteen-year old Shoshone girl finally has her say. The perspective is a first, re-spinning a well-traveled tale." — Portland Tribune
60-70 minutes; 2 women, 7 men (9-35 actors possible); Unit set.
*********************************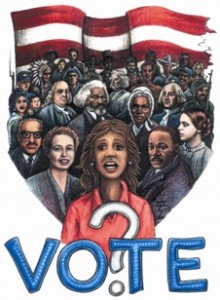 Election Day. Eighteen-year-old Nicole Harrison registered to vote when she got her license but has no intention of casting a ballot today. Why bother? Too many better things to do. As her friends argue about the worth of trying to voice any opinion, Nicole suddenly finds herself slipping into the freezing cold. And in the blink of an eye, she's right in the middle of Valley Forge in January 1778. Nicole fights to return to her own time while her compatriots battle for the very right she so casually dismisses. Sliding through time and historical events, standing beside women, minorities and young people all demanding their rights, Nicole discovers just how many shoulders we're standing on every time we step into a voting booth.
"A wonderful timeless piece. It should be required viewing for all Americans." —Paper Mill Playhouse
"A play that gets to kids before the politicians do, and says we can make a difference. What better message is there than that?" — Folio Weekly
"Drama that kindles the democratic spirit." — St. Petersburg Times
50 minutes; 2 men, 3 women (may be expanded to 20 actors of either gender); Area staging.