Published Family Plays (all ages)
THE GIRL WHO SWALLOWED A CACTUS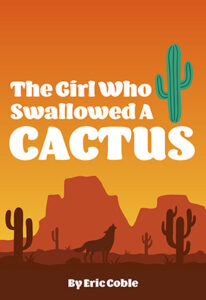 School is out for the summer, the weather is hot and the boredom is heavy. But 8-year-old Sheila and her pack of pals aren't going to let the summer heat wear them down. When their fantastical junkyard fort draws the attention of a walking, talking, surprisingly well-dressed coyote, the adventurers suddenly find themselves deep in the desert, facing The Council of Howls, The Sting Brigade, The Death Cactus and much more. It's a whirlwind adventure about how we affect the environment and the animals with whom we share the planet, and how we take on the mission of saving the world from ourselves. A unique twist on traditional storytelling, where a bit of moonlight brings a menagerie of found objects to life, this original play shows the power of memory and imagination and will captivate and inspire audiences of all ages.
"A beautiful sense of theatricality… hits all the right marks as both an intriguing fantasy-filled adventure story and a thoughtful lesson about man and the environment." –Talkin' Broadway
"An imaginative tour de force!" –PopLifeSTL.com
"Told with all the ebullience of a wide-eyed fifth grader who has so much to say she can't wait to blurt it out, Coble's script succeeds well in creating that childlike sense of playfulness and imagination. There's nothing so satisfying as seeing a theatre full of children whose faces show how mesmerized they are as they hang on to every word Dust Cloud tells them." —David Appleford, Valley Screen and Stage
60 minutes, 1-10 actors, 1 set+puppets
*****************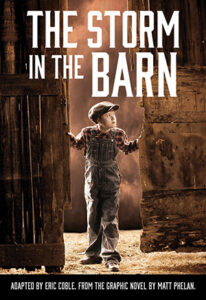 In 1937 Kansas, 11-year-old Jack Clark faces many challenges: local bullies, his father's desperate attempts to keep his family intact, an older sister getting sicker by the day, and a little sister with an eye for trouble. But he's also facing the epic disaster of the Dust Bowl—which means families disappearing overnight, tempers flaring in his small town, and the steady spread of the mysterious illness "Dust Dementia." So can Jack even trust his own eyes when he makes a terrifying discovery in the abandoned barn next door? Is the sinister shadow with a face like rain—a creature with a plan to deprive humans of water forever—real?  Adapted from the graphic novel by Matt Phelan, this uniquely American fable uses haunting music and startling imagery to ask: When everyone says you're too small to be the hero of any story, where do you find the strength to save your family … and the world?
"Blends history and fantasy into a quintessentially American fairy tale."—The Oregonian
"Balances darkness and danger with an optimistic spirit and a clear moral." —The Oregonian
"A magical, storybook world straight out of 1930s Kansas." —BroadwayWorld.com
"In a land where it never rains, it's hard to trust what you see with your own eyes, and harder still to take heart and be a hero when the time comes."—BroadwayWorld.com
"A sensory delight."—Portland Monthly
60 minutes, 7-15  actors, unit set
***************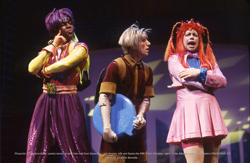 Computer magnate Gill Bates has the greatest software company on earth, billions of dollars, and more power than he ever dreamed of…but there's still something missing in his life: children. So he builds a little robot named Pinocchio to keep him company. But this mischievous little bundle of microchips has his own headful of ideas about how to enjoy life, including following two shadowy characters into worlds of increasing consumer frenzy. What follows is a wacky, charming 21st-century retelling of the 19th-century classic about what it takes to become a real human being, for both father and child.
"A socially plugged-in, gleefully referential work." — American Theatre
"A fast-paced action comedy that's a blast to watch…a charming, delightful diversion." –-The Cleveland Plain Dealer
"Coble's clever re-telling is an electric adventure for the entire silicon set." –Atlanta Journal-Constitution
45-55 minutes; 2 women, 3 men (4-9 actors possible); Unit set.
***********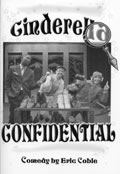 The prince has the shoe. He's ready to wed. But who's the woman behind the foot? Two investigative reporters—Deb Jabber from Action News Day Now and Sonny Glamour from Glitter Kingdom Today—compete for the scoop of the century, interviewing everybody from a fairy godmother in desperate need of a day-planner to mice in the witness protection program. Look for cameos from Pinocchio, Jack and his cow and other celebrities in this no-holds-barred expose of the timeless love story and what it means to find—and TELL—the truth.
"This reworking of Cinderella's story for the media age works magic for adults, too." — Cleveland Scene Magazine
"Freshens up what can be a shopworn tale with smiles and laughs, while making a social comment on our time. Perfectly fun!" — Cleveland Plain Dealer
50 minutes; 2 men, 2 women, (4-13 actors, gender flexible); Area staging.
*****************************
PECOS  BILL  AND  THE  GHOST  STAMPEDE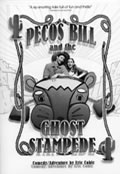 Let's get larger than life! When the biggest herd of cattle west of the Mississippi disappears during the worst drought in history, it's weird. But when that herd transforms into ghosts, leveling everything in its path…well, now we're into Pecos Bill tall-tale country. Young Missy Cougar-Wildcat has always wished she could live an adventure as big as her home state, and when the roughest, rowdiest cowboy of all enters her world, she quickly find herself up to her braids in a brand new hoot-n-holler legend packed with action, laughs…and the world's largest prairie dog!
"With one layer of action appealing to kids, the next layer amusing adults, it's a fast-paced whimsical romp that will electrify imaginations." — Akron Beacon Journal
"A rip-snorting tale full of fun and thrills!" — Cleveland Call and Post
50 minutes; 2 men, 2 women, (extras as desired (up to 7,000 in herd of cattle, for example); Area staging.
***********************************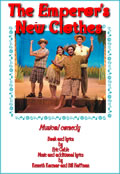 Book and lyrics by Eric Coble. Music and additional lyrics by Kenneth Kacmar and Bill Hoffman.
A Caribbean musical adaptation of the classic Hans Christian Andersen fairy tale! It's a big day on the tiny island of Little Iguana: it's young Jasmin Martin's birthday. Her wish is simple-to spend the day making sand castles with her parents and to try on the beautiful simple sash her father bought her. But the Emperor of the island sets all the fashion standards -from high-tops to headgear-and poor Jasmin's big day doesn't stand a chance against the thrills of the runway. Then "magic" tailor Uriah "Buzz" Butler swims ashore (having been kicked off the island of Little Barracuda for starting a rebellion), and he has his own ideas for a clothing line. Now the Emperor, his subjects, and the whole island are in for a shock. This charming version features song styles of the Caribbean-Calypso, Reggae, Ska, and even a hat-and-cane number (as well as audience participation and the most amazing loom you'll ever see on a stage)—all to make the point that clothes don't make the human!
"[This] hilarious, Caribbean-flavored Emperor's New Clothes is an audience-participatory blast with a sneaky little moral." —Cleveland Plain Dealer
"Full of the little things kids love with a hilarious denouement worth the wait. Judging from the reaction of the young audience, the play's title character was the only one who didn't leave in stitches." —St. Petersburg Times
45 minutes; 1 woman, 3 either gender, may be expanded to 20 or more of either gender); Area staging.
******************************